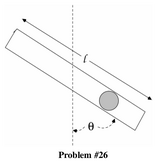 A particle of mass
m
is placed in a smooth uniform tube of mass
M
and length
l
.  The tube is free to rotate about its center in a vertical plane.  The system is started from rest with the tube horizontal and the particle a distance
from the center of the tube.
For what length of the tube will the particle leave the tube when
is a maximum and
?  Your answer should be in terms of
and
.
Find the Lagrangian and Euler-Langrange equation of motion

(where
is the moment of inertia of the tube about its center of mass).




so



At the moment when
is at a maximum:



so




or




where
is the radial component of velocity when
.
can be found by conservation of energy, namely




subbing


Therefore,




or




which is a quadratic equation in
, which can be solved for in terms of g, m, M,
, and
Ad blocker interference detected!
Wikia is a free-to-use site that makes money from advertising. We have a modified experience for viewers using ad blockers

Wikia is not accessible if you've made further modifications. Remove the custom ad blocker rule(s) and the page will load as expected.